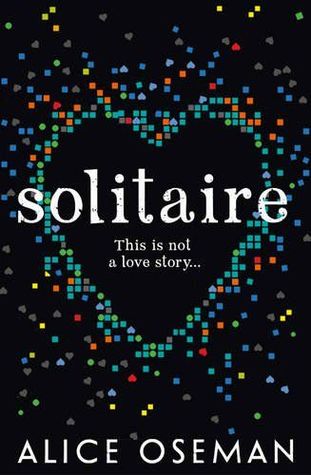 Title/Author: Solitaire by Alice Oseman
Filed Under: YA, Contemporary
Publisher/Published: Harper Collins, 31st July 2014
Format/Pages: Paperback, 391 pages
Rating: ★★★★★ 5 stars
Where to Find: Goodreads | The Book Depository
Synposis: In case you're wondering, this is not a love story. My name is Tori Spring. I like to sleep and I like to blog. Last year – before all that stuff with Charlie and before I had to face the harsh realities of A-Levels and university applications and the fact that one day I really will have to start talking to people – I had friends. Things were very different, I guess, but that's all over now. Now there's Solitaire. And Michael Holden. I don't know what Solitaire are trying to do, and I don't care about Michael Holden. I really don't (pulled from Goodreads).
[Mild Spoilers Below]
Solitaire is the story of Tori Spring, a 16/17 year old blogger, introvert and self-proclaimed pessimist. The tone of the novel does not let up on these identifiers, threading a morose and often down-right bitter voice throughout. Quite frankly, I've never read a book I so strongly connect with, nor  a character who is basically the living embodiment of all teenage bloggers (or, at least, me).
It's very rare to find teenagers who act, behave and speak like teenagers do in literature – even YA literature, which is aimed at that older end of the teen age spectrum. There's always something that the author doesn't quite grasp correctly but here Alice Oseman – as a teenager at the time of writing – just gets it. She doesn't shy away from the fact that teenagers discuss politics, that teenagers can be feminists, nor from the idea that teenagers can so often be enamoured by a singular idea, person, or feeling,  and that it can be incredibly dangerous to reach that level of obsession. She doesn't even turn her head to how utterly ridiculous teens are when it comes to judging people.
"I hate parties. I always will. It's not even for the right reasons; I hate them and I hate the people who go to them. I have no justification. I'm just ridiculous." – Tori Spring (p.218)
In particular, mental health is a recurring theme throughout though it is subtle and does not overwhelm the rest of the plot. For instance, Charlie (Tori's 15 year old brother) has a very maladaptive and obsessive relationship with food and has been know to turn to self-harm. Tori herself suffers from what we can presume is depressiontoo and yet it is not as clear cut as one would expect. It's refreshing, really. The mental health issues that arise are dealt with tactfully and with care but never move away from realism. And not only their effects on the sufferers but the effects on their family, too.
"'I noticed,' he says. 'But I didn't do anything. I didn't do anything.'" – Charlie Spring (p.389)
My favourite element of all had to be Tori's relationships with those around her, primarily her friends. As someone who used to have superficial friendships too (you know the ones, those people you hang out with but don't really enjoy spending time with) I related so hard to the qualms Tori had with Becky, the girl who had been her best friend for five years but whom she was, ultimately, drifting away from. And Evelyn and Rita and Lauren too – the rest of "Our Lot" – who were friendly enough but to whom Tori did not connect with. Really, Tori is surrounded by all these people who share their space and time with her and yet she still feels lonely and honestly, as an introverted pessimist, it's not surprising. On countless occasions the others don't seem to understand what 'introvert' means and think that Tori is purposefully isolating herself from the rest of them (she partially is, though). It takes Michael Holdon, quirky and interesting tall boy who speed skates (?) to break her from the cycle of perpetual self-hatred she's found herself in. Do not be alarmed though – like everything else in this novel, the friendship between Tori and Michael is incredibly well developed and is definitely not all sunsets and roses (it's not even a little bit sunsets or roses). It's a gradual formation, mostly helped along by Michael's undying wish to be friends but Tori's 'um I don't know's. It's perfect. Mostly. The only element I kind of didn't think fit was the happenings at the end of the novel on the rooftop (omitting for super spoiler reasons) but then again, Alice Oseman herself has said that if she were to write it as the person she is now, that bit may not have made the cut.
If you haven't already been able to tell, Solitaire is a character-driven novel which, although features a mysterious and suspenseful plot in the form of Solitaire the pranksters, that element almost takes a back-seat. Instead the characters are very much in the foreground and it is their experiences, reactions and emotions we see more of. It's an interesting divergence from what one might expect and still works beautifully in portraying the story, which is moreso about growing up and friendship as opposed to the mystery novel one might have been fooled into thinking it is. Which, speaking of mystery, was so well done here that I didn't actually guess who the 'leader' of Solitaire was until the reveal was actually happening. From other reviews I've seen most people guessed a little earlier on but I at least was incredibly surprised the first time I read the book! An important note is that I write this review about my second full read and there are many hints weaved throughout to foreshadow the reveal, which I didn't pick up on the first time but am now hysterically screaming about.
I personally also enjoyed all the tiny little hints of British culture throughout. They may, understandably, be slightly alienating for a non-British audience but I still feel that the book could be read with a high grasp of what things were. Even the pop culture references were very universal.
Overall, this is a YA contemporary for the ages, riddled with cynicisms and an undeniable love for the inner workings of the teenage brain. I've given Solitaire 5 stars as it resonates so closely with me and my experiences thus far in life, is beautifully executed and overall incredibly well developed throughout. I can't wait for Alice Oseman's next delve into YA fiction!
Favourite Quote: "'Some people are meant for school', says Michael. 'That doesn't mean they aren't meant for life.'" (p.378)
Favourite Parts: Snily vs Drarry. Nick Nelson. Michael Holdon. Speed skating. Becky the saviour. Toy gun lighter. Solitaire. English Lit essays. The way homophobia is not ignored. Oliver Spring!! Portably heaters in the snow.
Least Favourite Parts: That tiny Tori/Michael thing that happened on the roof.
Would Recommend To: Lovers of YA and/or realistic contemporary. People who want to read something well-developed and well-delivered. Those that have qualms with the education system. British readers. Non-British readers. Anybody, really.
– jess, xo