'A WORK IN PROGRESS' BY CONNOR FRANTA
LEEDS SIGNING, 28TH MAY 2015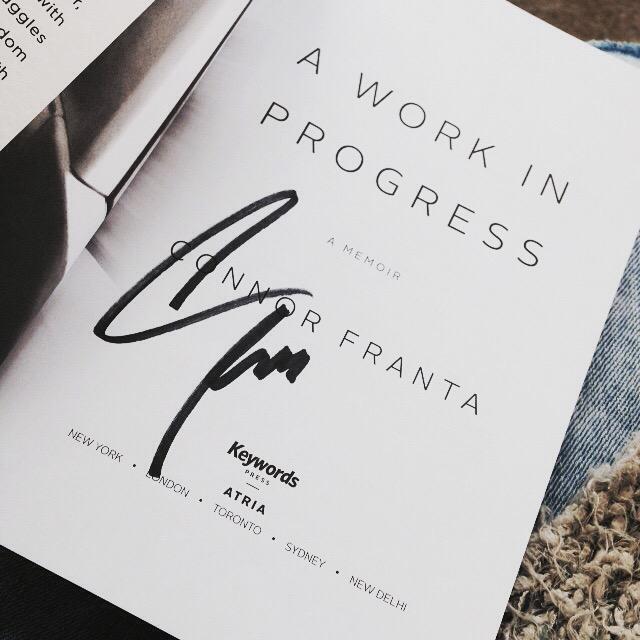 Ah, Connor Franta. YouTuber, entrepreneur, all-round inspirational guy. A 22 year old who has amassed 4.5million YouTube subscribers, 3million Twitter followers, and a best-selling memoir which has seen book tours across the US and, most recently, the UK.
…
Being a seasoned stalker dedicated fan, me and the two friends I was attending with decided to head into Leeds for quarter past 9 in the morning (the signing started at 11am) with the intention of hanging around in the train station to potentially meet Connor before the signing. Bearing in mind he'd been travelling to all of the other signings via train, we thought this was a fairly fool-proof tactic. Unfortunately today of all days he travelled by car instead, meaning we completely missed him as he never even came close to the train station.
So just before 11 we (disappointingly) headed up to the Waterstones where the signing was being held and collected our wristband and book. The book is beautiful, by the way. Even more beautiful in person than it is on the internet. Anyway, the queue was a decent length by this time obviously so we found ourselves fairly near the back, although since many people who were further up into the queue left to join the back, we ended up considerably further forward than we originally were. There were a specific group of people who refused to join the queue until as late as possible and as a result of this, being some of the few people left in the signing at the end, got selfies with Connor inside (yes, I am bitter. I'm so jealous).
Regardless, my time with Connor was still great, even if I didn't get a selfie with him! He's tiny in real life and, there's no other way to say it, beautiful. Not in an 'oh god he's so hot' way but in a 'truly, his soul is beautiful' way (god, how cheesy does that sound?). Here's what happened (inc. pictures!).
Transcript of Conversation [and commentary]:
Me: Thank you [why did I say thank you? I'd only just walked up to him].
Connor: Hi there, what's up?
Me: Hi! I just want to say, I'm so proud.
Connor: Thank youu! That's sweet.
Me: *Hugging* Thank you!
Connor: No problem, I hope you like the book.
Me: Thank you [so many thank yous going around, why are we both so goddamn polite].
My friend Grace gave him some cute Paperchase postcards we picked up earlier on in the train station. We wrote our twitter handles on the back, obviously, but I hope he enjoys them regardless of whether he acknowledges us. They were pretty damn hilarious.
Like true stalkers DEDICATED FANS we hung around the back entrance after the signing to see if we could catch him for a selfie then. And then, in true security fashion, he got taken out of the front doors instead since all the fans who wanted to meet him again were out back, meaning no selfie for us. Still, it was a pleasure to go to the signing and I'm completely in love with the free poster we got. And the book , of course. I started reading it on the train home and I'm actually enjoying it so far, which is surprising for me since I'm not usually a fan of non-fiction or memoirs.
– jess, xo