Alright, so I know it's a little late, being the third and all, but I didn't plan on ever doing monthly wrap-up posts until I saw a lot of my favourite blogs doing it too. This inspired me so I think I'm going to give it a shot! It won't be just about books: there'll be things on music, life, things I read and things I bought. Just a general summary of the month of June really, so let me know what you think of the set up.
BOOKS
After finally getting done with exams on the 16th of June (more on that later) I could finally start getting into the swing of reading again after a pitiful start to the year. My 2015 reading challenge goal is to reach 40 books again—I didn't achieve this last year (33) but I have high hopes for the rest of the year. I plan to really get some serious reading done over the next two/three months before I head off to uni, so I should get there.

I read three books this month in just over a week! I finished To All The Boys I've Loved Before by Jenny Han on the 21st after a day or two of reading it, followed swiftly by its sequel P.S. I Still Love You on the 23rd. After that, I moved on to My Secret Rockstar Boyfriend which was very kindly sent to me by Maximum Pop/My Kinda Book after I entered a competition to receive a free copy and review it for their website. You can read my blog review of My Secret Rockstar Boyfriend here, the Maximum Pop one here, and To All The Boys I've Loved Before here.
I decided to treat myself to two physical copies of books this month: To All The Boys I've Loved Before which I got off the Book Depository for a bargain £3.85 and Dream A Little Dream by Giovanna Fletcher for £4 from my local Asda supermarket. Jenny Han's book was a post-exam treat that I had been craving for the longest time. I knew it was going to be a light, easy, and fluff-filled read and it did not disappoint! I haven't read Giovanna's latest novel yet but I'm sure it'll be great as well.
Over on NetGalley I was approved to read these two books: The Kiss by Lucy Courtenay and One by Sarah Crossan! I was actually approved a few weeks back but I didn't have chance to download them until recently. I really love how well these two covers go together actually haha. I'm currently (in July) reading The Kiss and I must say I'm enjoying it a lot more than what I expected to! The publication date for the book was yesterday, July 2nd, so I've actually missed reading it as an 'ARC' but I'm still loving it all the same, so expect a review on that in July. One has an interesting concept by the sound of the synopsis as the main characters are conjoined twins but what I didn't realise when I first requested to read this was that it's actually written in free verse, which puts me off quite a bit. I'll still try it out at some point but I'm not 100% sure about it right now. We'll see!
MUSIC
On June 3rd I saw 5 Seconds of Summer at Leeds First Direct Arena with some of my closet friends. Myself, Grace (thatsecondstartotheright), Josh, and Charlotte (who is missing from the photo for some reason lol), were right over on the right side of the stage, aka Calum's side. Not that I particularly minded whose side we were closer to—that's just part of the privilege of being an Ashton girl hahaha. Speaking of, I just want to comment on how insane Ashton's drumming was. The whole staging was amazing at showcasing him and really bringing him more into center stage rather than being at the back where most people forget about him (#drummerproblems). But yeah, this night was amazing and I couldn't ask for it to have been any better because it was truly truly out of this world crazy insane. I've only ever seen 5SOS twice before, both times with them not being the headliners, so this was a really great thing to be able to see, watching them headline their own official arena tour. I'm so proud!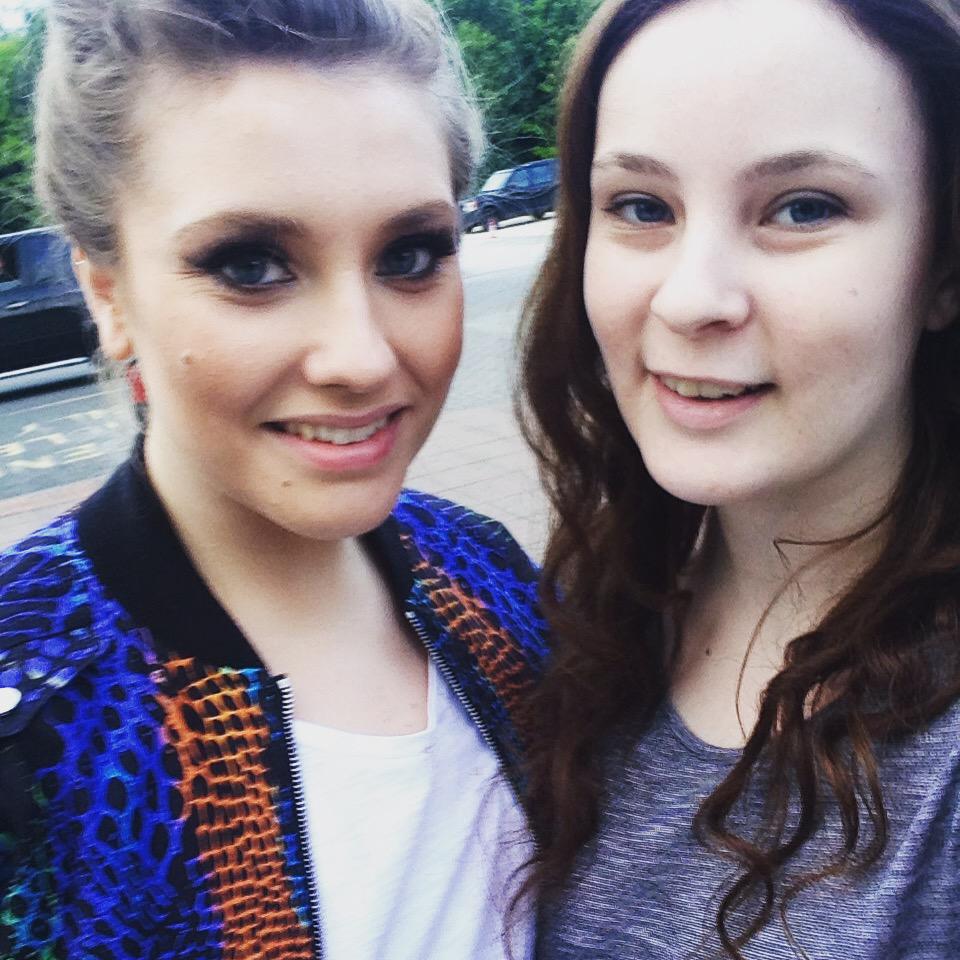 On the 24th of June I met Ella Henderson outside Sheffield Arena. My friend Josh is a massive fan of her and he asked me and Grace to go with him to try and meet her, so we did. Now, Josh is such a massive fan that Ella actually knows who he is. Like, she recognises him all the time. If it hadn't been for that she might not have stopped for us at all (we were the only three outside the gates haha) but she and/or her parents, who she was with, saw him and stopped to come over and say a quick hello. Although I'm not her biggest fan, I can say with full confidence that Ella is a wonderfully talented lady who is going to go far, I'm sure of it.
I've been so into Girls Like Girls by Hayley Kiyoko towards the end of June after it came to my attention on Tumblr. I really love the vibe of the song in general but the music video is honestly so great. Other than being so aesthetically pleasing with the colouring and everything, the short story thing it has going on works really well in line with the song and it's lyrics. All three of the actors in it really showcase their talents and the extent of their ability to evoke an emotional response from the audience. If you haven't already listened to it you totally should. The video can be watched here!
TV/Film
I'm going to go over this category quite quickly because it's already taken me so long to get this far into the post! Here's a break down of the films and shows I've been watching in June.
About Time is one of my favourite films because it merges the great idea of time travel with the butterfly effect and cutesy romantic stuff. It's adorable!
I also watched The Age of Adeline this month which was another great film. I was in tears for the better half of the film and if you've watched it you'll know why. It's so heartbreaking 😦
After a recommendation on Tumblr I actually watched the Disney channel movie Teen Beach 2 as well. I wasn't the greatest fan of the first one because it kind of lacked any depth but this second one was so empowering for girls and extremely feminist which was so great to see from Disney. I'm glad a lot of young girls out there will be watching this and are hopefully inspired by Lela!
Teen Wolf started back on Monday (though I have to watch it on Tuesdays, silly timezones) making it just about slide in for this month's wrap-up. I forgot how much I actually adore this show until I got to watch s5. It's awesome. I love it. I love Scott and I love Lydia and I love Stiles. Give me more, MTV!
Another show that started back up is My Mad Fat Diary, which I've been avidly awaiting for since whenever s2 ended. I really dig the 90s aesthetic in modern day tv shows but apart from that the themes and issues that MMFD explores are so important and I'm glad Channel 4 are addressing them in a fun, engaging tv show with dynamic characters and plot.
Pretty Little Liars!! Who isn't watching this right now?! Half the people at my college are beyond obsessed with it and so am I. I honestly can't even get enough. Who is Charles?!? Who is A?!?!?! Will I go insane before we find out?!?!?! The answer is yes.
Another Channel 4 show, Humans is really messing with my head right now. It's set in a parallel universe to ours where synthetics, or 'synths' for short, have been created basically as electronic slaves. They do the menial and laborious jobs minimum wage workers did before and can also be bought as helpers for around the house. The story follows a family who have bought a synth called Anita and a group of synths who aren't as disembodied as the others and can feel, think, and act like real humans do. I'm probably not doing a good job of explaining it but it's really interesting to watch.
The Syndicate over on BBC is back for a third series, which is awesome. I've not loved this one as much as I have the last two but it's still great to watch, especially with the murder/kidnapping mystery that's going on. The last episode is on next week! 😦
LIFE
I passed my driving test on June 2nd woo! Fifth time lucky, eh? I know I have a social anxiety disorder but I think I'm also just generally more susceptible to anxiety of all forms, the reason why I failed my driving test so very many times. I would get so worked up before I got into the car it was ridiculous! I knew there was nothing to worry about because I could drive perfectly when just on a normal lesson but as soon as I got to an actual test I messed up doing stupid things. Oh well, I finally did it in the end! Not that I actually have a car to drive…
I also officially left college this month! That's crazy to think about because it means that (now, at least) there's only two and a half months left before I move out to go to university. It's going to be so weird living alone after growing up with 12 billion siblings and an overbearing family haha. I'll make it work though. All that's left to do college-wise now is wait for my results to come out on the 13th of August and then either scream or cry, depending on what happens. Not that it really matters since I have an unconditional uni place but still. I'm a very prideful person when it comes to exam results even though I know I shouldn't let a silly letter on a piece of paper dictate how I value my intelligence.
Also, I dyed my hair twice in June! The first time was back fully brown after a year of been vaguely sort-of ginger and the second time, a few weeks after, involved doing ombré. It was supposed to be a little bit blonder and brighter than what it turned out but I'm still fairly happy with it. It's faded a little unfortunately even though its not even been in a week yet but I'll live. It doesn't seem to have damaged my hair at all which is a plus! Also it's a teensy tiny bit patchy if you look closely but at least I know where I went for next time aha.
– jess, xo