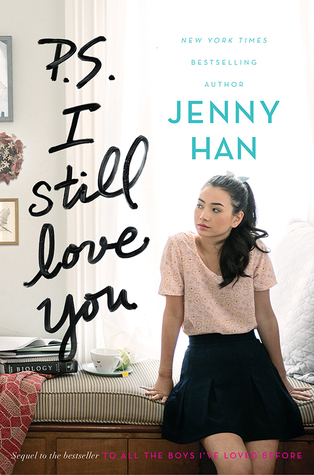 Title/Author: P.S. I Still Love You by Jenny Han
Series: To All The Boys I've Loved Before (#2)
Filed Under: YA, Contemporary, Realistic, Romance
Publisher/Published: Simon & Schuester, May 26th 2015
Format/Pages: Paperback, 337 pages
Rating: ★★★ 3 stars
Where To Find: Goodreads | The Book Depository
Synposis: Lara Jean didn't expect to really fall for Peter. She and Peter were just pretending. Except suddenly they weren't. Now Lara Jean is more confused than ever. When another boy from her past returns to her life, Lara Jean's feelings for him return too. Can a girl be in love with two boys at once? Love is never easy, but maybe that's part of what makes it so amazing (pulled from Goodreads).
[Mild Spoilers Below]
Ah, I swear I almost screamed when I got to the end of To All The Boys I've Loved Before and it was left on the cliffhanger "Dear Peter…" Honestly, Jenny Han! What a way to make a girl scream because I hadn't yet purchased P.S. I Still Love You so I had to—god forbid—wait to read this. I actually finished it a little while ago now and have read/posted the review of another book in between but I did finish this within two days of starting and loved every last second of it. There's nothing to warm the heart more than a book full of cutesy Lara Jean lovey-dovey moments.
Coming off of the back of To All The Boys I've Loved Before, I spent a long while trying to figure out what exactly the sequel to the duology would be about. Given that the first book focused on Lara Jean growing up a bit and her ever-evolving relationship with Peter Kavinsky, I wasn't entirely sure where this would go. In actual fact, there isn't much of a plot to P.S. I Still Love You, it's a much more character-driven novel than ever the first one is. It revolves around Lara Jean still and her relationship with Peter (sort of) but there's a new player introduced, who we only very briefly got to see to To All The Boys I've Loved Before: John Ambrose McClaren. This book explores the differing relationships Lara Jean has with both boys and the nuances of possibly being in love with two people at once. So okay, I will admit that the love triangle from it all reads as incredibly forced, but I also know that this love triangle and John Ambrose McClaren are the whole reason that the book was ever written so yes alright it is forced (and you can tell!) but it is also worth it just to have been able to read the book. Plus, I'm not sure exactly how or why, but the love triangle seemed to be written to a higher standard than most YA love triangles and there was a lot of realistic development in the feelings Lara Jean had for both boys. Plus, it was made all the more harder by the fact Kitty, Lara Jean's 10 year old sister, really liked spending time with both of them too.
One of the elements that I thought significantly contributed to the realism of P.S. I Still Love You was the Anonybitch scandal. There are so many legitimate pages like that set up for many areas (at least in England, I can't vouch for the US of course) so I don't find it unusual at all that were would be an Instagram/other social media for student scandals to be broadcast. The content of the scandal though… god, poor Lara Jean. It's not even a scandal because nothing actually happened but her reputation is in tatters because of the Anonybitch announcement. More so than I enjoyed that element, the follow up and the social commentary on how boys and girls are treated differently for the same act was really interesting to read. I'm glad it was included.
"Society is far too caught up in shaming a woman for enjoying sex and applauding a man. I mean, all of the comments are about how Lara Jean is a slut, but nobody's saying anything about Peter, and he's right there with her. It's a ridiculous double standard." – Margot Covey (p.74)
Lara Jean does a lot of growing up in this novel, maturing chapter by chapter. There are a few moments of weakness when she seems like a silly, naive girl again but she really does turn her life around and learn a lot of important lessons about love and life. I don't want to include any major spoilers but I think the involvement of Gen and how Lara Jean reacts to her throughout the book really highlight these changes in her maturity.
Personally I would have enjoyed P.S. I Still Love You if there was more of a plot. Although the characters were engaging I really think this could've benefited from more actual events, which is why I have rated it as only 3 stars. Although I really did enjoy it I much preferred To All The Boys I've Loved Before and I felt disappointed that characters such as Josh and even Peter were ignored more than I would've liked throughout. Overall, still a great read though, and I would definitely recommend.
Favourite Quote: "I'm Eponine; you're Cosette! Don't make me out to be the Cosette!" – Lara Jean Covey (p.435)
Favourite Parts: The 1940s ball thing. Stormy. The tag game. Kitty, as ever. Talks of feminism and equality. Margot the badass big sister. Peter surprising Kitty with a ride to school. Peter in general tbh I still love him too.
Least Favourite Parts: Very little Josh. Gen coming between them.
Would Recommend To: Lovers of Jenny Han. Those who read the first and want to explore more of Lara Jean's world. People who enjoy light YA contemporary reads.
– JESS, xO