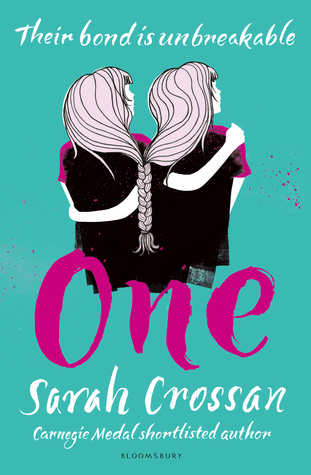 Title/Author: One by Sarah Crossan
Filed Under: YA, Contemporary, Realistic
Publisher/Published: Bloomsbury Children's Books, August 26th 2015
Format/Pages: ARC, 448 pages
Rating: ★★ 2.5 stars
Where To Find: Goodreads | The Book Depository
Synopsis: Grace and Tippi are twins – conjoined twins. And their lives are about to change. No longer able to afford home-schooling, they must venture into the world – a world of stares, sneers and cruelty. Will they find more than that at school? Can they find real friends? And what about love? But what neither Grace or Tippi realises is that a heart-wrenching decision lies ahead. A decision that could tear them apart. One that will change their lives even more than they ever imagined… (pulled from Goodreads)
* I received an ARC copy of this book through NetGalley in exchange for an honest review.

I have so many thoughts and emotions about this book and it's intricate, unique premise. I know that might be surprising given the rating but for what it's worth, the way Crossan so tactfully deals with the topic that she quite probably has no first-hand prior knowledge of is commendable in the highest form. A story about conjoined twins Tippy and Grace, this free verse novel explores themes such as siblinghood, family, loss, and coming-of-age. On face value One certainly seems like an emotional and attention-grabbing book but that's just it: it's not skin-deep. As awful as it sounds, for what sounds like such an interesting book, I found it boring and easily forgettable.
One of my first issues with One is that it is written in free verse, something I didn't know at the time of requesting it on NetGalley. Since I was approved to ARC Review it though I decided to give it a go anyway in spite of the fact the closest I've ever come to a free verse novel before is We Were Liars by E. Lockhart. As it turns out my problem isn't with the lack of prose so much as it is the lack of depth free verse gives the story. Even though it's written from a first person perspective I feel that there is never really an opportunity to connect with the narrator, Grace, even though I'd been expecting quite an emotional tug from her. There's nothing that really lets you in to her inner personality: she's just a static voice on paper.
This leads me into my next point. Not only do I find Grace quite two-dimensional but most of the other characters are as well. With a few blundered exceptions, they have little to no depth which I find surprising in such an expected-to-be emotional story. I can tell that I am supposed to feel something for the twins and what they went through but I honestly don't. Don't get me wrong — I'm sympathetic just not emphatic and if characters like these that go through such horrible things can't elicit at least a little empathy from me, then something's wrong.
Another factor that led into my disliking of One is the rushed pacing — it's ridiculously fast for some unknown reason. I understand that using free verse rather than prose limits space a little but for a 400 page book this took me about 2 and a half hours to read, which is ridiculous and may be part of why I feel that it's so rushed. But still, even taking into account the style of the writing, it's still the pace of the plot which I find is flawed. I mean, seriously… this plot jumps from 0 to 100 in a matter of seconds with no intermediary part. Whilst plot twists are great and all this one (if you can even call it a twist, I wasn't that surprised) just doesn't do it for me.
After such a negative review you're probably wondering why I scored it so high at 2.5 stars: the reason lies in that I think the premise and originality of One really does give it a jump start from other YA novels, even if I found the execution, plot, and characters boring and lacklustre. If you're wondering for something more precise I'd probably rate it at 2.35 but that would be more than a little ridiculous to do haha. Overall though from other Goodreads reviews I seem to be in the vast minority with my opinion of the book so if you'd find a free verse novel about conjoined twins potentially interesting you should probably check it out when it's released on August 26th. Like I said, it's an incredibly quick read so if you don't enjoy it it's not like you've wasted much time on it.
Favourite Parts: Dragon was pretty cool. So was Carol and her humanity.
Least Favourite Parts: The way the characters texted… yikes. Grace's relationship/insta-love. Most of the novel tbh if you couldn't already tell.
Would Recommend To: Those tired of the same old characterisations in YA lit. People who want something really quick to read. Fans of free verse novels.
– jess, xo