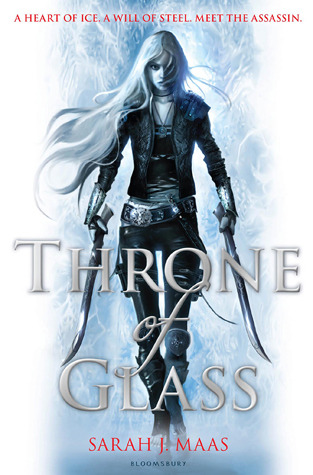 Title/Author: Throne of Glass by Sarah J. Maas
Series: Throne of Glass #1
Filed Under: YA, Fantasy
Publisher/Published: Bloomsbury, August 2nd 2012
Format/Pages: Paperback, 404 pages
Rating: ★★★ 3 stars
Where To Find: Goodreads | The Book Depository
Synopsis: In the dark, filthy salt mines of Endovier, an eighteen-year-old girl is serving a life sentence. She is a trained assassin, the best of her kind, but she made a fatal mistake: she got caught. Young Captain Westfall offers her a deal: her freedom in return for one huge sacrifice. Celaena must represent the prince in a to-the-death tournament—fighting the most gifted thieves and assassins in the land. Live or die, Celaena will be free. Win or lose, she is about to discover her true destiny. But will her assassin's heart be melted?
After hearing an abundance of amazing things about Sarah J. Maas from the booktube and bookblogging communities I knew it was finally time for me to turn my hand and start reading. I was first introduced to this series several years ago now (perhaps when only #1 and possible #2 were out) by a then friend, who recommended I read the series. I'm not entirely sure why I never did, but I'm glad I've begun now.
Throne of Glass jumps straight into the plot from the very first page, taking no prisoners as Celaena Sardothien is introduced to the world. I have mixed emotions about how suddenly I was thrown into the events: on one hand, I thought it was poorly done as it almost felt like I'd begun with the second in the series rather than the first; there was no backstory or anything for me to build from in my head. It would be impossible to describe just how strongly the reader lands in the midst of plot, almost in a 'sink or swim' instance. HOWEVER in spite of this I don't think much exposition at the beginning of the story would have worked either. With the story beginning as Celaena is brought out from her slave camp it probably would have been incredibly boring to have begun any earlier than Maas decided to. So, there's that. It does crash straight into the thick of things but it's not for no good reason.
One of the best elements of this book is definitely the world-building. I'd already heard so many great things about the world Maas creates but I was utterly blown away by its execution within the novel and the way in which history, sci-fi, and magic were all entwined into one. Quite frequently many fantasy books feel the need to tell you every element from the get-go but I really enjoyed the small littering of information in this as it is never too much nor too little. Plus, many things were delivered in believable ways by the characters, not just info-dumped by the author in odd paragraphs of text.
On the flip side though I felt like, plot-wise, this book was lacking. Other than the ridiculous supposed 'fight to the death' scenario there were so many other things that happened for… no reason? And even the competition to be the King's Champion was glossed over on more than several occasions, taking a back seat to whatever absurd, unimportant event was currently happening. It all felt a little… off? Since Celaena had to win the competition for more than one reason I would have expected more active description of the tasks and what happened to each of the competitors who didn't make it to the Final Duel than what there is. At times, there are sentences such as "another three tasks had passed" which I just think is such lazy writing from Maas, especially considering how talented she's shown herself to be with her world-building. I prefer to be shown what happens rather than told about it afterwards, which is why I am not overly fond of the book in terms of plot.
Characterisation is another strength of Maas which I thought was particularly showcased in Celaena and Princess Nehemia. It was interesting to see the different waves of emotions from both girls who hated the monarchy and everything the king represented. Their friendship felt so natural and so strong—I hope it continues to develop through the rest of the series since Nehemia seems like the controlled, level-headed kind of friend isolated Celaena needs. Stemming on from this, Chaol and Dorian were interesting love interests in their own rights though I was slightly confused by their supposed 'lifelong friendship'. They certainly didn't seem like best friends to me. Nonetheless, their interactions with Celaena were well developed as they all got to know each other more and I really love that they continued to align to their personality, rank, and attitudes towards women/love throughout.
Overall I'm not completely enraptured by the opening novel to this series, which is why I'm giving it 3.5 stars. But I did still strongly enjoy it and will absolutely continue to read on. Throne of Glass is certainly good but it's nothing exceptional—yet. I feel there will be much more to come from the series and can't wait to start reading the sequel so I can hopefully find answers to a few burning questions I have after Throne of Glass.
Favourite Quote: "'My name is Celaena Sardothien,' she whispered. 'But it makes no difference if my name's Celaena or Lillian or Bitch, because I'd still beat you, no matter what you call me.'"
Favourite Parts: Anything with Nehemia in it. The Final Duel. The fact a great ancient king was called Gavin (c'mon, this is hilarious!). Wyrdmarks and what they do. Dorian's sass with his father. Interesting means of death for *certain* characters.
Least Favourite Parts: The competition plot line. The duke and the king were really weird, too. Everything moved too fast for my taste.
Would Recommend To: People who are searching for excellent fantasy world-building. Those who love a kickass female protagonist. Readers who want a fantasy which doesn't sacrifice realism.
– Jess, xo