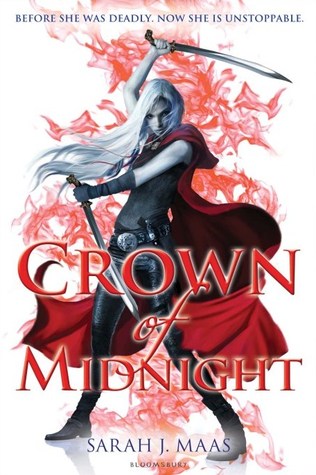 Title/Author: Crown of Midnight by Sarah J. Maas
Series: Throne of Glass #2
Filed Under: YA, Fantasy
Publisher/Published: Bloomsbury, August 15th 2013
Format/Pages: Paperback, 418 pages
Rating: ★★★ 3.5 stars
Where To Find: Goodreads | The Book Depository
Synopsis: Crowned by Evil. Bound by Duty. Divided by Love. Celaena Sardothien, royal assassin, is the King of Adarlan's deadliest weapon. She must win her freedom through his enemies' blood – but she cannot bear to kill for the crown. And every death Celaena fakes, every lie she tells, put those she loves at risk. Torn between her two protectors – a captain and a prince – and battling a dark force far greater than the king, Celaena must decide what she will fight for: her liberty, her heart or the fate of a kingdom…
[Mild Spoilers Below!] 
Throne of Glass really showed that Sarah J. Maas didn't have much of a direction for it when she originally wrote it. As much as I've come to love this series, it truly does. This, though, is the beginning of the end: Crown of Midnight is verging on the brink of something exceptional and I can taste the glory that will be Heir of Fire already on my tongue. This novel begins to project the six-book story into the realms of great literature and although it's not quite there yet, and indeed is lacking in several places for me, I just know that the series as a whole is going to be amazing.
First thing's first, I want to address the issue of the love triangle here. It seems to be the hot debate when it comes to this series so I thought I'd weigh in with my thoughts and… whilst I like Dorian and think he and Celaena are endearing I don't think they're particularly romantically paired BUT I really don't like Chaol and Celaena either. This love triangle pretty much does not interest me at all. Usually it's fairly easy for me to pick out one guy but with this I'm just not drawn to either bachelor, even as it becomes apparent Dorian will no longer factor into the equation.
In actuality, I rather hate Chaol in Crown of Midnight due to his inability to accept Celaena for what she is: an assassin. From his POV parts it is really flagged up that Chaol isn't at ease with her 'killing' and almost chooses to ignore it in favour of his idealised image of the beautiful, materialistic, fashion-forward girl he began to grow feelings for in Throne of Glass. A really massive, important part of Celaena's history is her time spent at the Assassin's Guild so for Chaol to simply turn a blind side to this because he doesn't find being an assassin moral enough is rather stupid. I have no doubt his affections for her are true and run deep but I cannot shake this deep irk I have with his character, spurred on a lot by this.
Celaena herself however far outshines the girl presented in the first book. She continues to be sassy and strong and independent but this time around we get to see both a more ruthless side to her and a more vulnerable one. Before the reader's eyes she transforms from a two-dimensional character to somebody with incredible depth and by the end of the novel — well, it reaches to unexplainable, extraordinary corners of character development. Celaena is everything I ever wished for in a character and more. Whilst I too grow weary of the 'badass female character' trope I feel like both Celaena's violent streaks and acts of mercy really set her apart from other alike heroines in YA.
All in all, Crown of Midnight is a really good read. It hasn't rated higher for me because I still feel like there is something (I can't put my finger on it) missing from it, which is the reason I rated it 3.5 stars instead of 4. I know for a fact Heir of Fire, the next in the series, will deliver. For any fan of fantasy I would recommend this series — after completing the second book I feel rather secure in acknowledging what a great series it is and urge any who were put off by the repetitive, sort of a teensy-bit-bland plot of Throne of Glass to continue reading on.
– jess, xo