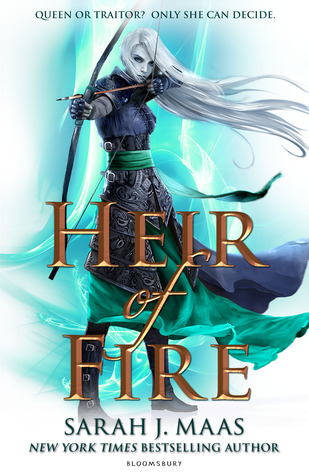 Title/Author: Heir of Fire by Sarah J. Maas
Series: Throne of Glass #3
Filed Under: YA, Fantasy
Publisher/Published: Bloomsbury, September 2nd 2014
Format/Pages: Paperback, 562 pages
Rating: ★★★★ 4.5 stars
Where To Find: Goodreads | The Book Depository
Synopsis: Consumed by guilt and rage, Celaena can't bring herself to spill blood for the King of Adarlan. She must fight back… The Immortal Queen will help her destroy the king – for a price. But as Celaena battles with her darkest memories and her heart breaks for a love that could never last, can she fulfil the bargain and head the almighty court of Terrasen? And who will stand with her?
[Spoilers Below!]
This book. I can't even begin to express my emotions and thoughts because it is quite honestly one of the most incredible, magical, down right exceptional fantasy books I've ever had the pleasure of reading. It's really, really that bloody amazing. Heir of Fire picks up a few weeks after Crown of Midnight ends, with Celaena Sardothien laid on a sunny rooftop in Wendlyn's capital city. She's drinking wine, eating stale bread or something, and just generally having a good ol' time whilst she spies. Somehow, instantly, I knew I'd love this book.
In my last review I discussed Celaena's character development from the first instalment of the series to the second and I was beyond thrilled at the lengths by which she evolved in Heir of Fire. After the revelations at the end of Crown of Midnight it's no surprise that Maas spurred Celaena into exploring new depths she'd tried to repress for over a decade. Not only was this exploration integral to the plot but it was also incredibly interesting. One of my main issues with the plot of Throne of Glass was that whilst it seemed like there would be a boat full of action there actually wasn't, thus the story fell flat. This one is completely the opposite. What initially made me think "are we really going to have 500 pages of this?" quickly transformed into "we're only getting 500 pages?!" Heir of Fire goes above and beyond any expectation. Celaena has these incredible wells of depth that I've never seen explored so heavily and I just love it. Whilst she's still as stubborn as ever (if not more so) her vulnerability and emotional baggage reared their ugly heads, making Celaena feel all the more human—even in spite of discovering her true heritage. Fae or not, the heir to Terrasen's throne showed more humanity than I'd ever expected of an assassin like her. And her grief is just… phenomenal. I was as devastated as the next person when Nehemia died but I expected the mourning period to be an hour or so, like it feels like in most books. Truly authors don't explore bereavement and grief and loss as much as they should do. Sarah J. Maas' decision to include it and her incredible depiction of it really push this book high into the realms of wonderful, realistic (in spite of the high fantasy) fiction.
"'Because she is dead!' Because she is dead, and I am left with my worthless life!'" – Celaena Sardothien (p.164)
I know many people initially had some issues in the first two books with why they were told in multi POVs and Heir of Fire was your reason why. With Celaena on a different continent it was actually really interesting to read the throwback chapters to what was happening back in Adarlan with Chaol, Dorian, and even the witches, who are introduced in this book. Their POVs felt unnecessary in both earlier novels but in this one they simply felt right. Without them, the plot could not have advanced. Dorian beginning to learn more about his magic and getting help on how to control it from Sorscha filled much of his but, in pure amasement from yours truly, I actually almost enjoyed reading about what Chaol was doing more. For those who have read my previous two reviews of the series so far you would know that Chaol is not one of my favourite characters, not by a long shot, so that really was surprising for me. He really grew into himself in the absence of Celaena, learning not to trust the king slowly but surely and also uncovering secrets of his own. One of the flaws I had an issue with was his unwavering loyalty to Adarlan's throne. As Dorian said, he had to choose a side. I'm glad he chose the right one and stuck by his friends.
"It was far too easy to lie to his men about the bruises and cuts on his face when Chaol returned to the castle" (p.190)
Back on to the witches, when I first began to read Manon's POV chapters I was half tempted to skip them or skim read because the disjointed feeling from having three characters tell a story to suddenly four—a character that has only just been introduced no less—was horrible. Eventually though Manon and what the witches were up to began to grow on me and though I was suddenly a lot warmer towards them, I still wasn't the greatest fan. That being said I understand author intent and clearly the witches, Manon in particular, are going to be important later on in the series. I'm sure I'll appreciate her POV in September, when Queen of Shadows is released (!!!). Especially considering how I didn't appreciate Chaol and Dorian's POVs in Throne of Glass but now I love them. Also the wyverns seemed cute, although I don't think I was supposed to think that.
New characters galore, Celaena's trip to Wendlyn meant the meeting of many new characters in Mistward, an in-between place where many demi-Fae, or those training to go to Doranelle, stayed. Now, let's talk about Rowan Whitethorn a moment, because honestly I couldn't decide if I shipped these two platonically or romantically. At first I was so confused as to why anybody would pair them but then when his shield melted and Celaena chipped away at his humanity, the man underneath was so heart warming, loyal, and dedicated to her cause that whether they get it on or not the pair of them will achieve incredible things, just like they did saving Mistward. If Rowan isn't in her Court when she takes back the throne of Terrasen I will start some serious shit. On another note, I'm not sure how I feel about the blood bond, however I am enthused that this means they won't be being separated any time soon. I also can't wait to find out how this will potentially affect the dynamics between Celaena-Chaol, Celaena-Aedion, and Aedion-Rowan should these lot all meet/be reunited, which I'm hoping to see in Queen of Shadows.
There was only one small thing I didn't enjoy about this book, ultimately bringing it down that tiny half star. For what it's worth maybe some people weren't/won't be as affected by this as I was but Rowan's attitudes towards protecting Celaena really aggravated me. His weird "a male's duty and honor" thing seemed kind of misogynistic and whilst I appreciate that probably wasn't Sarah J. Maas' intent whatsoever, I couldn't shake my annoyance that even when she'd proven herself more than capable of taking care of herself, he still felt like he absolutely had to protect her at all costs, simply because he was a man and she was a woman. Eh. I realise I'm reading far too much into this and letting it play on my mind more than is healthy but I couldn't, and still can't, shake that tiny twinge of annoyance.
That set aside though, Heir of Fire will bring upon you a multitude of emotions that will play with your heartstrings, set fire to your veins, and completely and utterly have you begging for the next instalment, which simply isn't out soon enough (curse you, less than a fortnight!). My rating of 4.5 stars will surely not disappoint. It's a phenomenal, extensive piece which really gets to grips with beautiful action sequence, wonderful and realistic character development, and exploring the depths of grief and trauma in a fictional fantasy setting. There is not a soul alive I would not recommend this to.
– JESS, XO