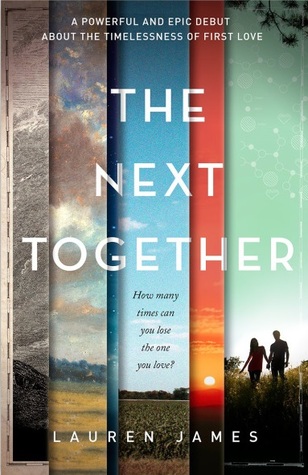 Title/Author: The Next Together by Lauren James
Filed Under: YA, Romance, Historical, Sci-Fi
Publisher/Published: Walker, September 3rd 2015
Format/Pages: Paperback, 356 pages
Rating: ★★★★★ 5 stars
Where To Find: Goodreads | Amazon | The Book Depository
Synopsis: How many times can you lose the person you love? Katherine and Matthew are destined to be born again and again, century after century. Each time, their presence changes history for the better, and each time, they fall hopelessly in love, only to be tragically separated. Spanning the Crimean War, the Siege of Carlisle and the near-future of 2019 and 2039 they find themselves sacrificing their lives to save the world. But why do they keep coming back? What else must they achieve before they can be left to live and love in peace? Maybe the next together will be different… A powerful and epic debut novel for teenagers about time-travel, fate and the timelessness of first love. The Next Together is told through a mixture of regular prose, diary entries, letters, "original" historical documents, news reports and internet articles.
PHOTOGRAPHS FROM EVENT USED UNDER CREATIVE COMMONS LICENSE SOURCED FROM THE UNI OF NOTTINGHAM'S  FLICKR PAGE
A style appropriately dubbed 'reincarnation romance' The Next Together unwinds the thrilling story of Katherine and Matt and how they came to be reborn in so many different time periods, always a step away from chaos and crisis. The book mixes traditional narrative during the Crimean war, siege of Carlisle, and the near-future of 2039 with not-so-traditional letters, notes on fridges, post it notes hastily scrawled at seven am, etc. Slowly, how Katherine and Matt came to be unravels and it is THE BEST THING EVER.
I'd been heavily anticipating the release of this book for some months before it was published after following a lot of Lauren James' progress online. I was first introduced to her via her publishing friend Alice Oseman (an author I love!) and I'm so glad that I found her because this story is something I might never have picked up alone! I'm not usually one for historical fiction—I like to read about the here and now, thus contemporaries are typically my go-to comfort zone. The Next Together managed to be perfectly, seamlessly historical without sacrificing any of the quirks I love in contemporary writing. There were clear distinctions between each time period but not too wayward that they didn't run well alongside one another. Particularly as the story went on and the periods began to hit their bumps it was really important to maintain clarity and I'm happy James managed to pull it off so incredibly well!
If you're not for lovey dovey romance then this one might not be for you, unfortunately. But if you are, or you don't mind it, I swear you'll fall head over heels for these two characters and their beautiful, earth-shattering, heart-stopping story. Romance is almost as centric to the plot as the time travel/reincarnation is and with it you come to learn that it truly is limitless; that two people who are as irrevocably in love as Matt and Katherine are will always find each other, no matter the time, or place, or situation. Whether on a war field or at the centre of a government conspiracy theory, these two are adorable. Always.
Another thing about this book: the typography; and the beautiful, brought-to-life art. This was so much more than writing on a page—I really do have to tip my hat to whoever was responsible for all of that because it makes the book all that bit more special. Each time period had a different font so even if you did ever get a bit sidetracked by what era it was in, the font would quickly point you in the right direction.
There were so many elements that I didn't think would be present in the book but they added so many great things to the concept as a whole. I don't want to ruin too much but the way technology interacted with the story, the situations that drove Matt and Katherine apart in both 2019 and 2039, and the 'trip' to Scotland were to name but a few. At first I was scared the multitude of storylines would get confusing but I wasn't lost for a second, unless you count being lost in the wonder that is this story. I loved every minute—every kiss—every time frame. And best of all, even though James took a bit of creative license with the historical plots, I really do feel like I have learnt something. And history is a subject I detested at school.
---
MEETING LAUREN JAMES
Well, let me tell you something, have I had one hell of a time trying to get hold of something signed by Lauren James! Recently I won a competition to receive a signed copy of The Next Together but when it came in the post it wasn't actually signed… still, a free book was a free book, except I actually already owned an unsigned copy. Fortunately and as luck would have it, Lauren James was coming to Nottingham in a matter of days to do a book talk at the Uni of Nottingham campus where she studied and where parts of the novel are set. I mean—it was like a miracle, like it was meant to be. The only issue: I would have to go alone.
As you can quite clearly see by the lovely photos above (taken by a photographer at the event, flickr credit link given earlier in post) I managed to cajoole myself into going to this strange new (and frankly quite beautiful) campus on the other side of the city and finally meet Lauren James and get my book signed. This wasn't the best part about the evening though: I thought the talk was really educational in a non-boring way and spurred a lot of my own creative juices into gear. As Lauren James knows in her own right, being young and a student should not and can not stop you from having your things published!! Meeting such a lovely, friendly woman who has had this great success at such a young age makes it all feel real; I can actually get published, hopefully, if I kick my arse into gear.
To sum this whole post up Lauren was a darling angel who I think is just about the friendliest, warmest person I've ever encountered and her book is an incredibly lively, interesting read which I would absolutely recommend!
– JESS, XO