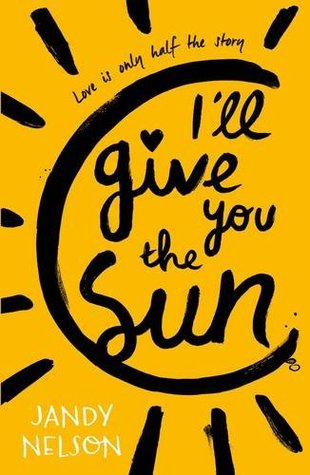 Title/Author: I'll Give You the Sun by Jandy Nelson
Filed Under: Young Adult, Contemporary, Realistic
Publisher/Published: Walker, April 2nd 2015
Format/Pages: Paperback, 429 pages
Rating: ★★★★ 4.5 stars
Where To Find: Goodreads | Amazon | The Book Depository
Synopsis: From the author of The Sky Is Every­where, a radiant novel that will leave you laughing and crying – all at once. Jude and her twin Noah were incredibly close – until a tragedy drove them apart, and now they are barely speaking. Then Jude meets a cocky, broken, beautiful boy as well as a captivating new mentor, both of whom may just need her as much as she needs them. What the twins don't realize is that each of them has only half the story and if they can just find their way back to one another, they have a chance to remake their world.
MAXIMUMPOP PROVIDED ME WITH A FREE COPY OF THIS BOOK. IN NO WAY HAS THIS SHAPED MY OPINION OR INFLUENCED THE REVIEW IN ANY WAY.
[Contains mild spoilers!]
I'll Give You the Sun is a beautiful rendering of siblinghood, love, loss, and the healing powers of art, brought together in an exceptional way with the text intermingling with the gorgeous art and typography that decorates the pages. The story follows twins Jude and Noah through their childhood to late adolescence, told in alternative perspectives with Noah narrating his life at the age of thirteen-fourteen and Jude at sixteen. Through this the tragedy the family has suffered in their mother's death comes to light along with the heartbreaking reveal that the once inseparable twins can, at their current sixteen year old selves, barely stand to talk to one another. Amidst the two parallel storylines their story is told piece by piece allowing a fresh new perspective on what it is to love and lose.
Those who follow my Goodreads reading updates might be confused by the glowing praise I'm showering this book with now. I know I too am confused by how quickly I begun to fall in love with this book after picking it back up. For a month it lay abandoned on my shelf looking very pretty but ultimately not being particularly enticing. My issue for the first 100 pages was that the characters and the narrative style felt excessively exuberant and as such I found it annoying. That quickly changed, though, and when I came back to it a week ago I fell in love. Suddenly it all clicked into place—the writing and Noah and Jude and everything in between became perfect. I wish I could explain it—perhaps it takes some getting used to—but once the unique style Nelson writes in becomes familiar to you I swear you will fall in love with this book.
In particular, one of my favourite things that the dual POV from different years lent itself to was the contrast that was presented between the twins. Their personalities, or rather how they present themselves amongst peers, are the exact opposite to how they are seen from the other siblings POV and I thought that was really interesting, especially with how Nelson then wrapped the POVs and characters up in the concluding chapters.
Love is by far the strongest theme in this book and it encompasses all. Siblinghood, familial love, friendship and romance, I'll Give You the Sun phenomenally tackles the relationships and dynamics that are so often ignored in YA novels whilst also not ignoring romantic relationships that also begin to form in teenage years. Noah and Jude's parents play a vital role in the story and their development throughout it, and how often is there something like that in YA? I'm happy that for once the important of family was not ignored.
Overall I can't lift this book high enough on the grand scale of 'HOW IN LOVE WITH IT ARE YOU' because it's almost perfect in a timeless, astounding kind of way. For those who love the arts, or love, or quirky, kooky, flawed characters, then this is for you. I'll Give You the Sun is a strong 4.5 stars from me: I think it's incredible.
– JESS, XO